Digital Marketing Agency for Doctors
Is your Healthcare Clinic Struggling for a 24/7 Online Presence?
Looking for Better Online Exposure and Generating More Leads
Hire Uvisible! A Performance-Oriented
Digital Marketing Agency for Doctors
Welcome to Uvisible, your one-stop shop to effectively reach and engage with your target audience, increase brand awareness, and drive conversions.
In this era, even doctors and hospitals require Digital Marketing for Hospitals Services. The reason is simple. Every search begins on Google.
If a person is unwell, their search for a doctor starts with a search on Google or other search engines.
Here, if a doctor or hospital is visible online, that person can easily reach out to that doctor or healthcare centre for treatment.
Hence, it becomes extremely crucial for doctors and hospitals to have online visibility.
This is where Uvisible as a Doctor Marketing Agency steps in. Our team of digital marketing specialists understands the way users search about diseases, doctors, and hospitals on the Internet and frame a strategy to make you visible.
We think that every medical professional or center is entitled to approach a Digital Marketing for Hospitals Agency for a strong web presence that successfully highlights their knowledge and distinguishes them from the competition.
To learn more about our Digital Marketing for Doctors Services
Want to Drive Traffic and Maximize the Process of Customer Acquisition?
Trust Uvisible as your Result-Driven Digital Marketing Agency for Doctors!
We provide a wide variety of Doctor Marketing Agency and Digital Marketing for Hospitals services, including affordability, website design and development, search engine optimization, Hospital PPC Agency services, social media marketing, content marketing, and reputation management.
Our Digital Marketing for Doctors services is intended to assist you in reaching your target audience, developing your internet presence, and expanding your practice.
Our focused Digital Marketing Agency for Doctors entails professionals who have a proven track record of providing goal-driven marketing strategies that reach your target demographic and assist you in meeting your objectives.
We collaborate closely with you to understand your particular demands and develop a personalised marketing plan to satisfy them.
We recognise the importance of having a robust online presence in today's digital environment at Uvisible, and we are devoted to assisting you in achieving your marketing objectives and growing your practice.
Affordability
Times are of recession and as a Digital Marketing for Hospitals Agency, we are quite aware of this fact. Our affordable rates, however, are something we can guarantee.
We make no sacrifices in quality as a result of this factor.
Our premium-quality services as a Hospital PPC Agency helps you to expand your broaden your clinic's reach, and we also work tirelessly with our devoted staff to ensure that you get the internet exposure you need to succeed in today's market at a price that fits your budget.
Web Design and Development
Uvisible as a purpose-driven Doctor Marketing Agency focuses more on web designs and development, our professionals will collaborate with you to create a website that is not only visually beautiful but also optimised for search engines and user experience, ensuring that your website is both appealing and simple to use for your potential patients.
We use the most up-to-date design trends and technology to produce a website that genuinely portrays your brand and efficiently promotes your services.
Search Engine Optimization (SEO)
As a Digital Marketing Agency for Doctors and hospitals, we use a data-driven approach toward search engine optimization, assisting you in improving the ranking of your website on search engines such as Google, Bing, and Yahoo.
Our SEO professionals will do a full SEO audit of your website and target audience to determine the appropriate keywords and improve your website content so that your practice is visible and readily searchable online.
PPC (Pay-Per-Click) Advertising
Uvisible as a result-oriented Hospital PPC Agency provides tailored PPC advertising campaigns for your health centres which aid in contacting your target audience fast and efficiently.
Our Hospital PPC Agency specialists use cutting-edge targeting strategies and technologies to guarantee that your adverts reach the right people at the right time.
We also offer continuous performance monitoring and optimization to ensure that your campaigns are producing the greatest results possible.
Social Media Marketing
Digital Marketing for Doctors services provided by Uvisible assists you in developing a strong social media presence on sites such as Facebook, Instagram, and Twitter, connecting you with your target audience and generating a dedicated following.
Our social media professionals will design and implement a complete social media plan based on your unique goals and target audience.
We also provide social media advertising to assist you to reach a larger audience and generating more leads for your practice.
Reputation Management
As a Digital Marketing Agency for Doctors, we understand the significance of controlling your online reputation, and our reputation management professionals will work with you to develop trust with your patients and maintain a favourable image for your office.
Monitoring and responding to online reviews and feedback, as well as adopting tactics to improve your online reputation, are all part of our reputation management services.
Content Marketing
Our Digital Marketing for Hospitals and Doctors' services will surely assist you in developing and disseminating excellent and relevant content that engages your target audience and increases traffic to your website.
As an intent-based Digital Marketing Agency for Doctors, we offer a range of services, including blog writing, infographics, and eBooks, to ensure that your content marketing efforts are effective and impactful.
Email Promotion
Uvisible as a Digital Marketing Agency for Doctors carefully enforces customised email marketing campaigns and helps you connect with your target audience and develop long-lasting connections.
We create professional and engaging email campaigns that connect with your brand and marketing objectives, allowing you to successfully reach your target audience.
Our Digital Marketing for Hospital Agency experts also assists you in developing and maintaining an email list of focused and engaged subscribers, ensuring that your promotions get the intended recipients.
Video Marketing
As a leading Doctor Marketing Agency, we use the power of video marketing to help you reach your target audience.
In our Digital Marketing for Doctors approach, our team creates professional and entertaining videos that resonate with your brand and marketing objectives, whether you require a product video, explainer video, or promotional video.
Our animation services provide eye-catching animations that help you differentiate yourself from the competition.
Local SEO
As a Digital Marketing Agency for Doctors, through precise and consistent local listing maintenance, we help you increase your local search presence and drive more leads to your practice.
Our Local SEO experts will work with you to ensure that your business information is accurate and consistent across local directories and maps.
We update and optimize your business information, including your business name, address, phone number, and website, across local directories and maps, ensuring that your online presence is accurate and consistent. We also help you improve your local search visibility by optimizing your listing information and managing your online reputation.
Reporting and Analytics
Analytics and reporting are critical for evaluating and analysing the effectiveness of your marketing activities.
As a result-oriented Digital Marketing for Hospitals Agency, we have analytics and reporting professionals who will assist you in setting goals, tracking results, and optimising your campaigns for optimum effect.
Website analytics, conversion rate optimization, and ROI analysis are among the services we provide
Uvisible.com offers performance-driven Hospital PPC Agency services to Doctors and Hospitals to build a strong brand name and generate consistent leads from users looking for the right medical treatment and diagnosis.
Whether you want a website or want to manage social media profile or generate leads, Uvisible.com as an outcome-driven Doctor Marketing Agency can help you in crafting and executing a 360 degrees digital marketing strategy that helps you build a brand and reputation.
145%
Organic Traffic - Increase
46%
Average Visit Duration - Increase
61%
Pages Per Session - Increase
Let Uvisible be your Digital Marketing Agency for Doctors, 
Help you Grow your Practice and Reach your Marketing Goals!
Contact us today to schedule a Free Consultation and Learn More about our Digital Marketing for Doctors' Services!
Uvisible's experienced SEO team would love to work as your extended team.
"Uvisible's SEO Audit and step by step recommendation PPT was really easy to understand and follow. Our website ranks in top 10 positions for most of our important keywords"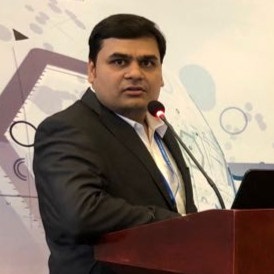 "Uvisible conducted the SEO audit of our website and helped us filter out duplicate content, unwanted pages and target our keywords appropriately."
Pushpendra Agrawal
CEO, MSG91.com
FAQs 
Q1. What is healthcare marketing agency?
A healthcare marketing agency is a specialized company that provides marketing services to healthcare organizations, such as hospitals, clinics, and medical practices, to promote their services and improve patient engagement.
Q2. How do you do digital marketing in healthcare?
To do digital marketing in healthcare, utilize various online platforms to target and engage with the relevant audience, and focus on creating informative and educational content that addresses their healthcare needs and concerns.
Q3. How to promote hospitals in digital marketing?
To promote a hospital in digital marketing, focus on creating a user-friendly website, utilizing search engine optimization (SEO), engaging with patients on social media, leveraging online reviews and ratings, and providing informative content about the hospital's services and healthcare expertise.
Q4. How digital marketing is useful for doctors?
Digital marketing is useful for doctors as it helps in building their reputation, reaching a wider audience, improving patient engagement, and providing informative and educational content about their healthcare expertise and services, leading to more appointments and better patient outcomes.
Q5. Why is digital marketing important for doctors hospitals and clinics?
Digital marketing is important for doctors, hospitals, and clinics as it helps in reaching a wider audience, improves patient engagement, increases brand awareness, builds trust and reputation, and ultimately drives more appointments and better conversion rates.
Q6. How can digital marketing help doctors clinics and hospitals?
Digital marketing can help doctors, clinics, and hospitals in many ways such as building brand awareness, increasing patient engagement, providing educational content, improving online reputation, and ultimately driving more patient appointments and revenue.